Camaraderie really does matter
We are a team of collaborators. We check status at the door and roll up our sleeves. We understand that this world is ever-evolving and strive to be experts in all that we do. We work hard, we play hard, and we look out for one another.
I love belonging to a company that wants to stand apart from others, both from a culture and uniqueness perspective. We care about our Buddos and want to make sure they are taken care of.
Become a Buddo...
Being a part of BuddoBot means being yourself among those that care about creating and maintaining a healthy work/life balance. No matter the position or where you are in your career, here, we are a team. We band together when times are tough and celebrate our hard-earned accomplishments.
Do you want to become a part of our growing family?
EEO, Accessibility & Accommodations
BuddoBot is an Equal Opportunity and Affirmative Action Employer. We promote, encourage, and pursue diversity in our workforce. BuddoBot's policy to provide equal employment opportunity to all employees and qualified applicants regardless of race, color, religion, national origin, age, disability, pregnancy, sexual orientation, gender identity, transgender status, genetic information, protected veteran status, or any other protected characteristic under federal, state or local laws.
Accessibility and Accommodations
For Individuals with Disabilities, Medical Conditions, or Physical or Mental Impairments: BuddoBot is committed to ensuring that our employment process is open to all individuals. BuddoBot provides reasonable accommodations to individuals who require assistance during any part of the employment process due to a disability, medical condition, or physical or mental impairment. Reasonable accommodations are considered on a case-by-case basis.
If you require assistance to navigate the BuddoBot career website or to apply for a position, please send an email to accommodations@buddobot.com or call 833.274.6400. Please provide your contact information and let us know how we can assist you.
Important Links
Click here to view the EEO is the Law Poster
Click here to view the EEO is the Law Poster Supplement
Click here to view the Pay Transparency Policy Statement
Click here to view the Buddobot CEO's Commitment to Equal Employment Opportunity and Affirmative Action
If you'd like to view a copy of the company's affirmative action plan or policy statement, please email hr@buddobot.com. 
Honesty, Integrity, Camaraderie
Would you like to be part of an extraordinary team dedicated to cultivating a positive and productive work environment? We are looking for honest, personable, and innovative problem solvers to join our growing organization. At BuddoBot, we prioritize a strong work ethic, integrity, and excellence in everything we do, as we strive to provide unparalleled service. Collaboration is at the heart of our work, and we take pride in challenging our employees and supporting their professional development. By fostering an environment that encourages growth, we continuously strengthen our team's foundation and empower our employees. Join our cohort and experience what it means to be a Buddo.
Who doesn't like swag?
We like functional gear; items that are high-quality, useful, and fun for the team. Even though we like to have options, we strive for quality versus quantity because our hardworking Buddos deserve it. We enjoy researching and brainstorming ideas for our company gear selections and have even more fun sharing it. All Buddos get a unique welcome kit and an even bigger surprise on their 90th day. We also have a catalog of high-quality apparel for those that like to switch things up a bit.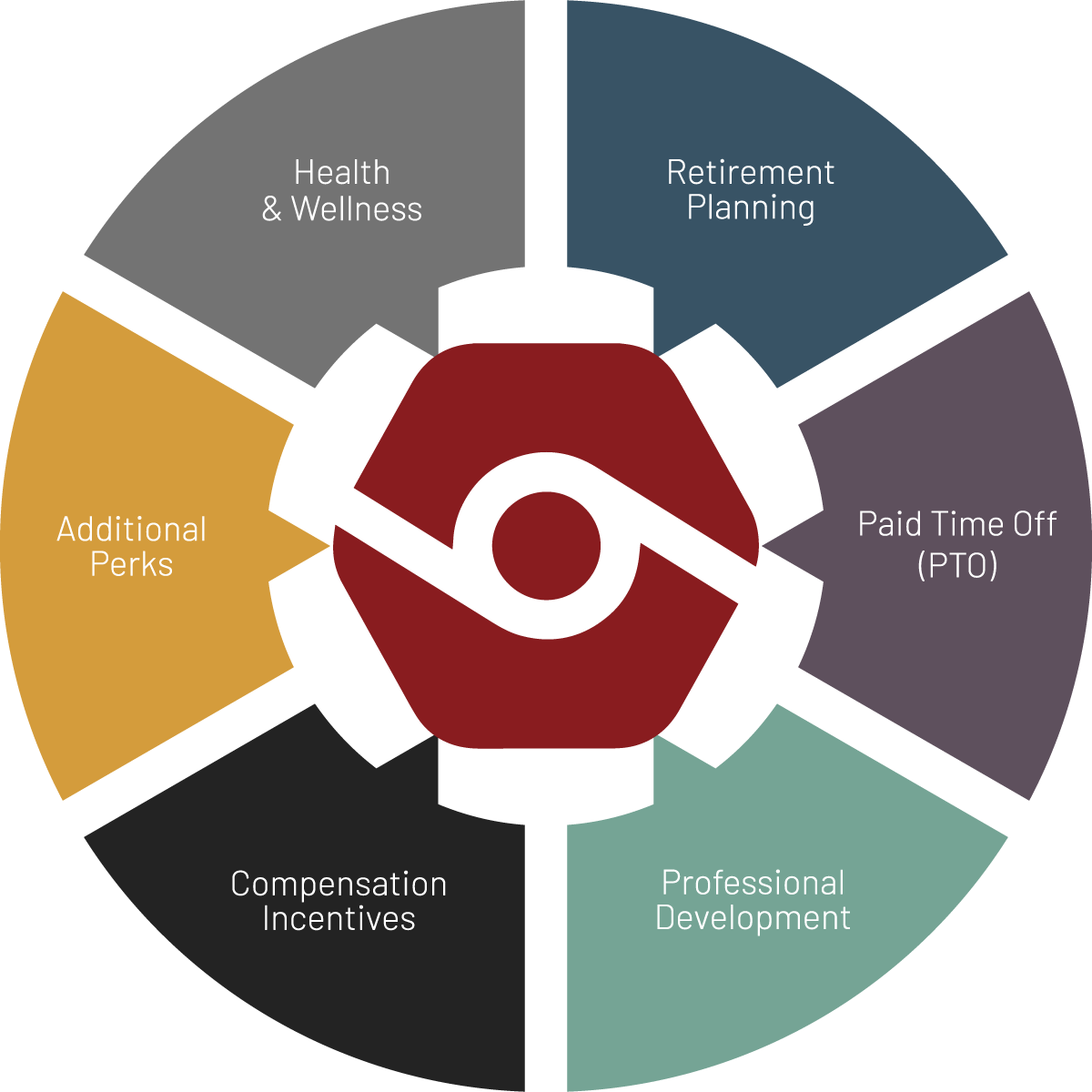 We care about you...
We believe our employees, our Buddos, are invaluable to the growth and success of our unique organization and the projects we support. We are committed to taking care of our employees.
We offer a comprehensive, family friendly, benefits package that packs big for a small business. All eligible employees are able to participate in our health benefits plans beginning on their date of hire.
Want to be part of our growing family?
Health and Wellness
Medical (Employer/Employee Contributions)
Dental (Employer/Employee Contributions)
Vision (No cost to our employees)
Short and Long Term Disability (No cost to our employees)
Life Insurance (1x annual salary at no cost to our employees w/ option to contribute more)
Flexible Spending Plans (Available to all employees)
Employee Assistance Program (Available to all employees)
Fitness Reimbursement (Do you belong to or want to join a Gym, Fitness Center, CrossFit Box, or Martial Arts School? Take Yoga, Pilates, Zumba, Tai Chi, or any other fitness classes? BuddoBot would like to help cover some of those costs and reimburses its employees up to $50/month.)
Paid Time Off (PTO)
Holiday Leave (10 Federal Holidays)
Accruable Paid Time Off (New employees can accrue up to 3 weeks, 4 weeks after three years, 5 weeks after six years.)
Year End Leave Payout and/or Rollover Options (Want an option to cash out or roll over your PTO? Want to do a little of each? Go for it, you earned it.)
Birthday Leave (Time off for your birthday is important and BuddoBot will have it no other way!)
Retirement Planning
Company 401K Matching Program (Immediate vesting – we want you to stay with us because you like us, not because you may lose a benefit.)
Financial Planning and Guidance (Professional advisors made available to you)
Professional Development
Formal Education and Training Assistance (Need to finish or start a degree? Interested in a professional certificate? We'd like to help you by providing up to $5,250/year toward reaching your academic and professional training goals)

Professional Development Planning (We take the professional growth of our employees seriously, and work with our team members to build a realistic pathway to success. If you grow and succeed, we all grow and succeed.)
Compensation Incentives
Competitive Salaries (We do our best to ensure that everyone on the team is making a fair and competitive salary.)

Employee Referral Bonus (Know of anyone that would make a great Buddo? We'd like to know, and if they are hired, we'd like to reward you)

Spot Bonuses (When folks go above and beyond, we notice it and don't take it for granted. From time to time, when feasible, we'll extend spot bonuses to eligible employees.)

Business Development Bonus (Bonuses available for those that develop and capture new business for BuddoBot.)
Additional Perks
Company Events (Annual company events to support camaraderie and showcase our appreciation for all the hard work our team members put in)

Company Gear (Do you like swag? We really like swag and have some fun, quality items for everyone.)

Shopping and Entertainment Discounts (Who doesn't like a discount? We have access to various discounts from leading vendors, stores, and events and extend them to our team.)

Gas Reimbursement (As fuel prices increase in the summer months [June-August], BuddoBot will reimburse a full tank fill-up, up to $75.)

BuddoBooks Program (Do you like to read a good novel? Catch up on a memoir? Fine-tune your technical or business prowess? We like reading too and have established the BuddoBooks fund. Each quarter, Buddos can purchase books of their choice [up to $25]).